LATEST RECOMMENDATIONS
in alphabetical order by title: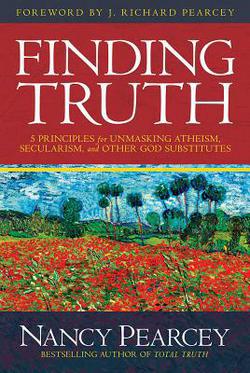 Finding Truth: 5 Principles for Unmasking Atheism, Secularism, and Other God Substitutes; Nancy Pearcey
If you are looking to understand why the popular and deceptive worldviews of the day are actually contrary to reason, this volume will help you greatly. Finding Truth is packed full of valuable information, but it is easy to read. Pearcey provides an evaluation process that helps us realize why false worldviews do not match reality. You will end up much more confident that the biblical Christian worldview is true and worth staking your life on. The author continually cites real-life examples and precise quotes for each topic discussed. Anyone wanting to get a better handle on the big picture of competing worldviews will benefit much from reading this book.
Has Christianity Failed You?; Ravi Zacharias
Has Christianity Failed You? is a deep read, requiring thoughtful reflection as you pore over the ideas of a proficient and highly respected apologist. Bringing to the table years of experience, Ravi Zacharias addresses tough issues such as whey we suffer, why we pray even though the answers may not be what we expect, and what is the essence of human nature. Be prepared to think profoundly, and be amply rewarded as you invest time into this rich work.
PREVIOUS RECOMMENDATIONS
in alphabetical order by title:
Beyond Opinion; Ravi Zacharias
Beyond Opinion is an absolute must-read for every Christian. A compilation of the writings of many experts and lovers of Jesus Christ, this text stirs your mind and heart. If you want to be challenged to live more deeply for God, intellectually stimulated by the truth of biblical Christianity, and touched by the sincere emotion that accompanies God's overarching reality, read this book! One of the best books I have ever read.
Christianity on Trial: A Lawyer Examines the Christian Faith; W. Mark Lanier
What is the hard core evidence for the biblical Christian faith? What if it were examined in a courtroom format … by a lawyer? What if the rigor of the legal process were applied to the claims of God in His Word? This is exactly what one of the best lawyers in America set out to do in this powerful book, and he did it very well. Christian apologetics is the reasonable defense of Christianity. Unlike many apologetics books that delve heavily into science, this delightful read digs into the historical and logical evidence for Christianity. Mr. Lanier employs expert "witnesses" from past and present to bring forth the incredible case for our faith. This book is factual, and it also touches our emotions in a compelling way. Christianity on Trial is a delightful book to read, leaving one feel both intellectually satisfied and joyful about our hope.
The Call: Finding and Fulfilling the Central Purpose of Your Life; Os Guiness
This volume drives the reason for getting up each morning back to the grand call of God. Os Guinness is not shy about confronting the wrong type of thinking that has crept into the church regarding our passion and our purpose. With a refreshing, hard-hitting, and inspiring style, The Call permeates your thought process when it comes to the question, "Why am I living?" Guinness quotes many pivotal thinkers of both today and yesterday. The author's focus is clear, and the book is life-changing. Jesus is the Caller, and the only reason anything makes sense!
Erasing Hell; Francis Chan & Preston Sprinkle
Erasing Hell is an honest endeavor to be biblically accurate while refusing to cling to selfish, preconceived notions. Mr. Chan's commentary on the truth of the Bible brings us back to the question, "How am I living out this incredible (albeit sobering) truth in my life everyday?" The book is as intellectually solid as it is easy to read. Engaging and packed with explanatroy notes, the lover of God's truth will enjoy this volume.
The God Question; J.P. Moreland
As so many people wander through life lacking a serious passion for living, the essentials of this book are fitting and effective for our culture. Moreland impacts the intellect while touching the very core of our emotions. Straightforward, insightful, and personal. Moreland outlines the biblical solution for the dilemma of an empty life. I recommend this book for both believers and unbelievers.
The Holiness of God; R.C. Sproul
A classical and powerful reminder of God's core – His holiness. No matter how long you may have been a Christian, we all need to refocus on the essentials. This potent outline of God's holiness as it relates to our souls and our cosmos is simply engaging!
How Now Shall We Live; Charles Colson
If you are looking for a beginner's guide to a biblical Christian worldview, this is the book. Packed full of practical applications.
If God is Good; Randy Alcorn
If God is Good is a volume of 500 pages that grapples wonderfully and soundly with the question of God's goodness in light of evil and suffering in the universe. Alcorn backs his claims on the Word of God; and when he offers his opinion, he makes it clear it is such and no more. This powerful work is divided into short sections within the chapters and so is reader-friendly for those with a shorter attention span for digesting so much information. Packed with real-life stories and Scripture, you will be inspired to keep trusting God even when He chooses not to remove suffering from your realm. A person walks away from this book knowing one thing for sure: God IS good even though the world is currently a mess. There is a transcendent, eternal hope!
Knowing God; J.I. Packer
A basic must-read for every Christian. You will learn, and your passion for Jesus Christ will grow.
Love God With All Your Mind; J.P. Moreland
A book not for the faint of heart or brain! Moreland will challenge you to a higher level of commitment to God in the area of intellect. If you are a geek like me, you will LOVE this challenge
Reasons for Belief; Norman L. Geisler & Patty Tunnifcliffe
If you are not a Christian apologetics expert, but are looking for an easy-to-understand synopsis of the answers to basic questions about the Christian faith, this is the book for you. The super-intellectual Norman Geisler beautifully reveals the essentials of our faith in a concise and organized way that anyone can comprehend. This little book addresses questions about the nature of truth, the existence and nature of God, the uniqueness of Jesus, and the uniqueness of the Bible. Every Christian should be introduced to this volume.
Total Truth; Nancy Pearcey
A comprehensive, inspiring text for anyone serious about understanding Christian apologetics. If you want to know how our culture has changed and what is wrong with the Church's response to our culture, you need to study this book! Pearcey opens your eyes to the underlying philosophies that are detrimental to our world.